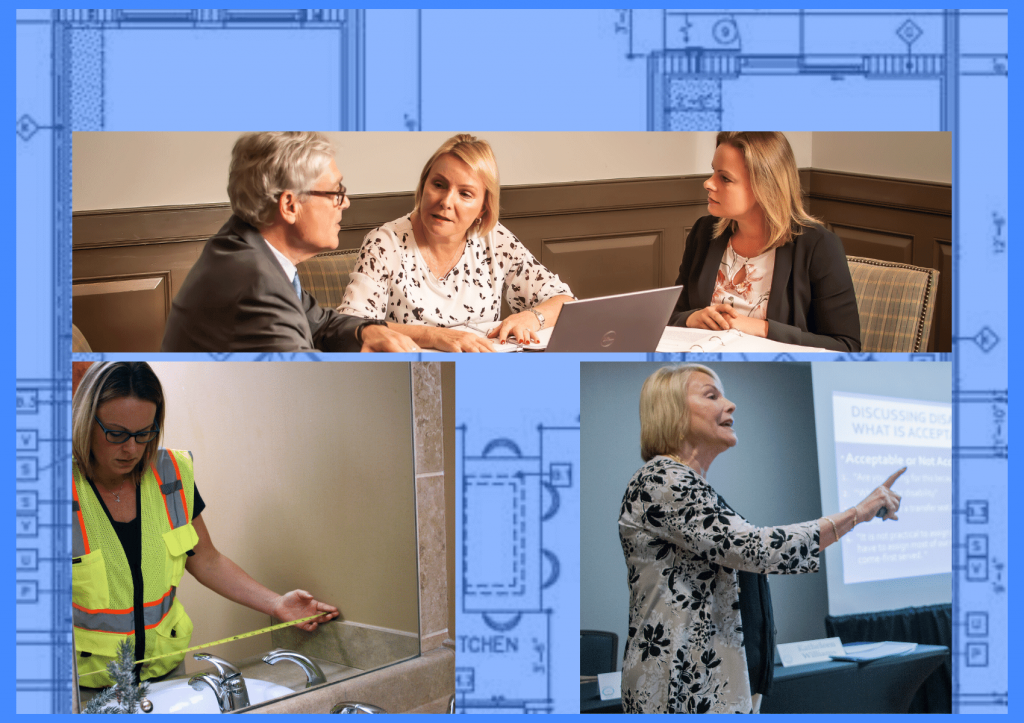 As Fair Housing attorneys, we provide a wide variety of services such as compliance, training, evictions, accessibility, discrimination, and more. Review all of our services below.
Compliance
Defense
Training
Evictions
Accessibility
Discrimination
Compliance
Fair Housing Compliance
Consultation and Support for our Clients
Fair housing is a complicated and constantly evolving area of the law. We are actively available via telephone and email to discuss our client's recent and pressing issues. Because we practice almost exclusively in this area of the law, we carefully follow all matters involved with the civil rights requirements of housing providers. It is seldom necessary to conduct research and most questions can be answered immediately. Due to our long-standing, close professional relationships with our clients, we are able to listen to our clients' challenges and provide objective suggestions and alternatives when appropriate. After being in business representing housing providers for more than twenty-four years, we have achieved a level of expertise and understanding of the benefits and risks of most considerations, making our Firm a valued member of your team.
Policy and Procedure Reviews
A housing provider's successful fair housing performance often depends upon effective policy development, training its employees on these policies, and follow up supervision practices to ensure employees are complying with the policies.  Our attorneys have been working together with our Firm's clients to understand which policies are essential, and how those policies should be expressed.   
Fair Housing Forms
Efficient housing management oftentimes requires the use of effective forms. Due to its long professional relationship with so many housing provider clients, our Firm is able to work with you to create forms that capture necessary information that will enable the housing provider to make determinations that address its residents' concerns while documenting compliance with all applicable fair housing concerns.  These forms include applications, screening policies, releases, reasonable accommodation requests, and verification forms, follow up verification forms, determination of whether a modification creates an undue administrative and financial burden or a fundamental alteration, accessibility checklists, and many more.
Defense
Fair Housing Defense
Fair Housing Defense Throughout the Country
Every year tens of thousands of lawsuits and administrative complaints are filed against housing providers throughout the country. Our Firm is an expert at handling the defense of these matters on our clients' behalf. We represent properties and companies from throughout the country.
We've worked with owners, management entities, real estate agents, marketing companies, lenders, and insurance companies. We seldom find it necessary to involve an attorney licensed in your state.
Our goal in our representation is to resolve the matter as quickly and inexpensively as possible, and if that is not possible, to defend our clients' interests vigorously throughout the process. Understanding the facts of each case and our client's position requires close communication with and sensitivity to our client's goals.
Our success at understanding our clients and effectively representing them is why most of our clients have been with us for decades.
Training
In Person Fair Housing Training
Fair Housing Training - Understanding the Employee and Resident Connection
When Kathelene, the founding partner, established our Firm, one of her primary goals was to provide fair housing education to housing providers, thereby preventing many fair housing cases arising from a lack of information or misunderstandings.
The legal requirements all housing providers are required to know is not easy to understand and cannot be avoided by good intentions or common sense. The best way to prevent problems is to train employees that interact with prospects, and residents using practical examples.
This Firm offers a large variety of fair housing training programs that can be developed and tailored to your property and employees' needs. The subject of the training can be basic or can be created to address highly specific topics. 
And of course, we train collaboratively with The Fair Housing Institute, Inc.
Evictions
Evictions for Housing Providers
Walking You Through the Eviction Process
For housing providers who are considering lease termination, we can discuss the considerations and legal implications of such a decision.
If an untenable landlord-tenant relationship leads to eviction, we can either walk you through the process or handle the case for you, from initial filing to trial and finally to eviction.
We can also consult with your landlord-tenant attorney to prepare for the possibility that fair housing and reasonable accommodations issues may be raised in the resident's defense.
Accessibility
Physical Accessibility Consultation, Reviews and Inspections
Accessibility consultation is valuable in a number of situations: new construction of a multifamily community, acquisition of an existing property, rehabilitating an existing property after the acquisition, after receiving a complaint of noncompliance, or simply for self-evaluation purposes. We can assist your company by:
Reviewing construction plans to identify compliance issues prior to the development

Conducting periodic inspections throughout the construction process

Inspecting existing properties for accessibility compliance and making recommendations regarding potential liability and/or alterations needed

Performing a physical inspection to determine whether an accessibility-related complaint has merit

Providing a detailed report of our findings after the review/inspection    
Discrimination
Employment Discrimination Defense
If your company has received a Charge of Discrimination from the Equal Employment Opportunity Commission (EEOC) or suspect that you may receive one, we will handle your complaint through the investigation and potentially settlement process. If you're unsure as to how to respond or what information to give, it is a good idea to have an experienced representative on your side.